Socal28's S2000

---
Alarm
Alpine SEC-8063 with Dual Sector Digital Radar Sensor
Installed by Mobile Fantasy, Sherman Oaks, CA (818)380-0404
Additional options include:
Auto windows roll-up upon arm
Windows roll-down via remote
One-touch roll down and up via interior controls
---

Any of the pictures can be enlarged by clicking on them.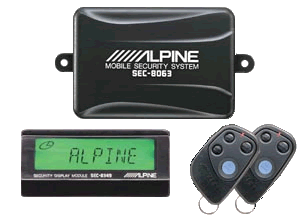 Security Features
Microprocessor Controlled Main Unit
123dB Soft Chirp Siren
Starter Interrupt Relay Included
Selectable Starter Interrupt (NO/NC)
Valet/Disarm Switch
LED Status Indicator
Superregenerative Receiver
Code Learning (Up to Four Independant Remote Controlls)
Hood/Trunk Trigger Input
Door Trigger Input
Ignition Trigger Input
Optional Sensor Input
Dual Stage Impact Sensor Included
Dual Stage Digital Radar Sensor Ready
Selectable Ignition Controlled Door & Unlock
Keyless Entry In Valet
Convenience Features
Remote Starter Compensation
Dome Light Surveillance Output
On-Board Light Flash Relay
Priority Door Unlock Output
Door Lock / Unlock Outputs
Faulty Sensor Bypass
Tripped Sensor Warning
Tripped Sensor Indication
Last Sensor Recall
Sensor Cancel
Digital Pager Data Output
Pre-warning Output
Alarming Output
Armed Output
Silent Arm (Capable)
Alarm Silencing Through Remote Control
Silent Alarming (Capable)
Scan Mode (Capable)
EXT Trunk Sensor Cancel
3 EXT Outputs
4 EXT Outputs
12 EXT Outputs (with optional SEC-8343)
EXT Timer Function
Programmable EXT Outputs (Pulsed, Continuous, Latched)
LCD Display Module with Clock, Security Information, Battery Voltage Display, Feature Programming
Mobile Mayday? System Integration Compatible
Audio Control Output Capability
Full Featured Two Car Operation
Remote Control Features
Two Remote Controls Included
5-Button Remote Control (SEC-8463)
Alpine Random Code Technology
Surface Acoustic Wave (SAW) Technology
Full Time Panic
Protected Valet
Keyless Entry In Valet
Silent Arm (Selectable)
Radar & Impact Sensor Adjustment
Specifications
Security System Main Unit
Operating Voltage- 12V DC (10?16V allowable/negative ground)
Operating Temperature- -30! to 60! C (-22! to 140! F)
Idle Current (Armed)-
Idle Current (Disarmed)-
Siren Sound Pressure Level- 123dB at 12V DC
Siren Output (Positive)- 1.5A
Starter Interrupt (Positive)- 200mA
LED Output (3V Positive)- 200mA
Pager Output (Digital)- 200mA
Dome Light Surveillance Output (Negative)- 200mA
EXT 1 Output (1Second or Latched [Negative])- 200mA
EXT 2 Output (1Second or Latched [Negative])- 200mA
EXT 3 Output (Continuous or1Second [Negative])- 200mA
Armed Output (Negative)- 200mA
Priority Door Unlock Output (Negative)- 200mA
Parking Light Output (Selectable)- 10A
EXT 4 Output (Continuous or 1 Second [Negative])-
Remote Control
Model Number- SEC-8463
Remote Control Range- 100ft (Typical)
Battery- One-3V Lithium OCR 2025O
---
socal28's TL page
socal28's S2000 page
Email me!
---